The last roundup I did on watercolour painting tutorials was so popular that I decided to make another one! I've recently found more amazing watercolour painting projects on the internetz and here are some of the best.
For the links to these watercolour painting projects, see below.
This post contains affiliate links. I may earn a small commission if you decide to purchase something through my links. Read my full disclosure here.
Watercolour supplies needed
Do you have your watercolour painting supplies ready yet? If you don't, here are some of my recommendations that I've personally tried:
Alright! Got your supplies and a clean desk to work on? Let's do some watercolour painting tutorials!
8 Free Watercolor Projects
Left: 8 watercolor techniques for beginners by Adventures in Making
Right: how to paint an easy watercolor cactus by Fox & Hazel
Left: watercolour basics (video) by The Wonder Forest
Right: watercolor doughnuts by Inkstruck Studio.
Left: 3 easy ways to paint oranges in watercolor by Watercolor Affair
Right: watercolor greeting cards by The Wandeleur
Left: watercolor feather tutorial by Inkstruck (this is just one of the many watercolour tutorials on Zakkiya's site!)
Right: simple watercolor sentiments by Damask Love
Bonus resource: Watercolour techniques you have to try
Online watercolour painting classes
Sometimes we learn better when we can see it in action! I'm an avid Skillshare user and I've taken lots of classes about watercolour painting.
If you haven't heard of Skillshare before, it's an online learning community with thousands of classes in design, business, technology and more. Anyone can join the millions of members in their community to learn cutting-edge skills, network with peers and discover new opportunities. Similarly to streaming services like Netflix or Spotify, Skillshare members get access to the entire class catalog for a low monthly price (instead of paying per class).
Here are some of my recommendations:
Ink & Watercolor Magic: 5 Step-by-step Illustrations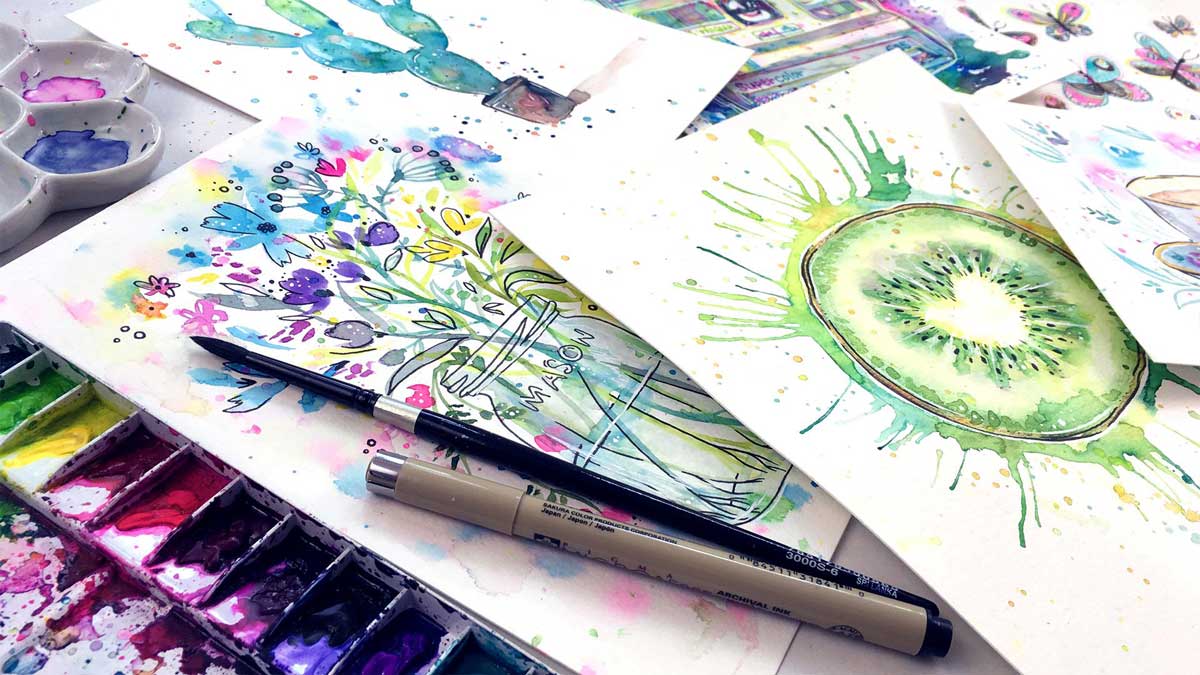 Yasmina Creates is one of my favourite Skillshare teachers and this class is so fun! She teaches how to paint a variety of colourful watercolour projects including a juicy kiwi, cactus, wildflowers in a jar, and more. To take this class, Sign up for a free Skillshare trial using my link and get two months free! Thank you, Skillshare!
How to Paint Tropical Watercolor Leaves
Another one of my favourites is this class by Peggy Dean about how to paint tropical leaves with watercolours. You can see my project
here
. To take this class,
Sign up for a free Skillshare trial
using my link and get
two months free!
 Thank you, Skillshare!
The classes above come from Skillshare. As a member of Skillshare I can highly recommend it! You can start your two free months on
Skillshare
and get unlimited access to these class and hundreds of other watercolour painting classes!
Will you be trying out any of these tutorials? Let me know in the comments!
Don't have time to do these watercolour tutorials now? Pin the image below to Pinterest to save it for later!
Love watercolour painting? Follow my watercolour painting tutorials board on Pinterest to discover more!
Don't forget your supplies!