Hello friends! Today I have a very special freebie for you created by Olivia from Random Olive. If you've been wanting to learn brush lettering or want something to practice, you're in luck!
Today's freebie is a brush letter practice sheet that you can print out and practice on. Scroll down to get download instructions.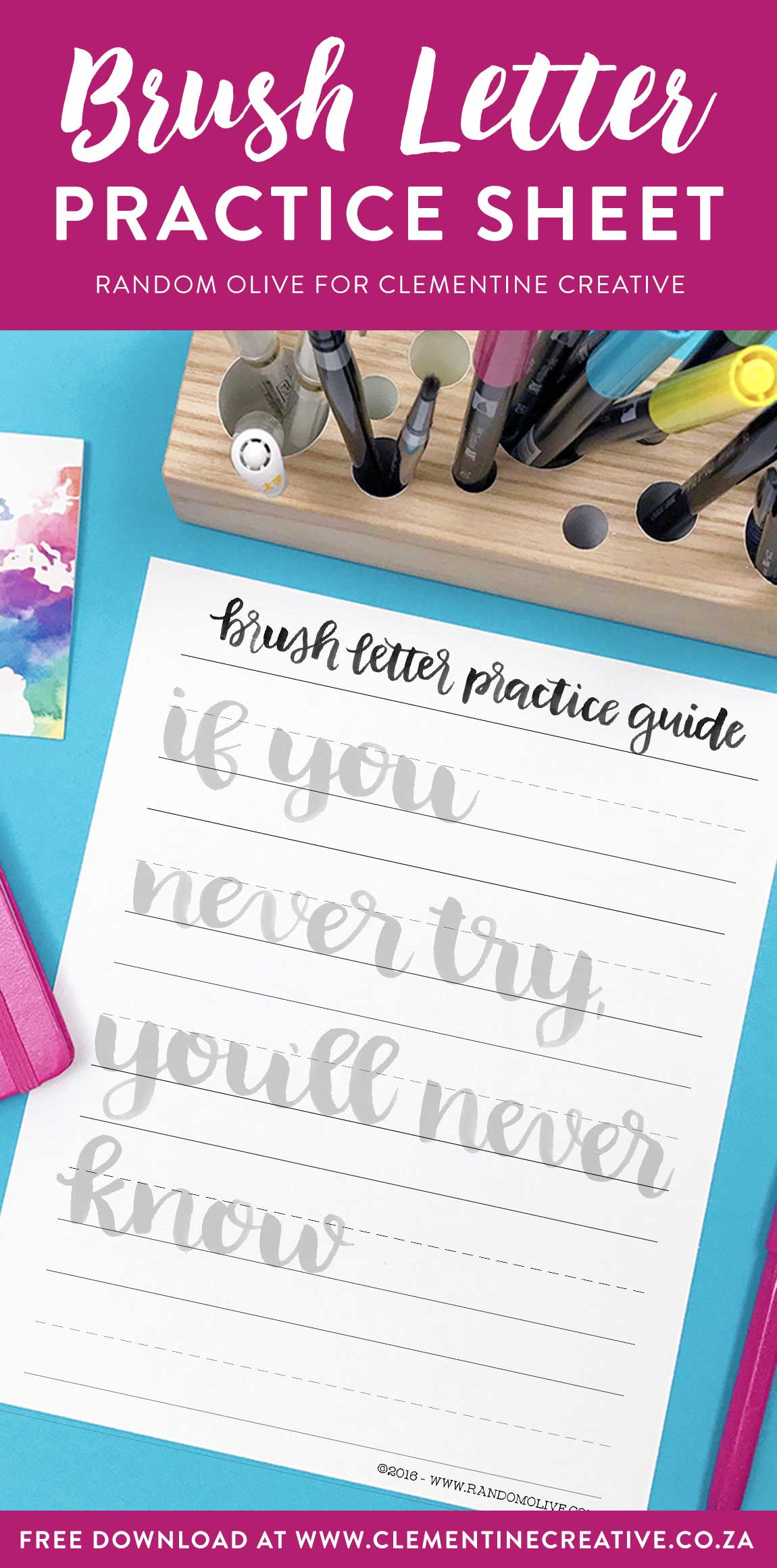 This post contains affiliate links. I may earn a small commission if you decide to purchase something through my links. Read my full disclosure here.
If you've never tried brush lettering before, here's what you'll need:
1. A brush pen with a thick tip like a Tombow Dual Brush or a Pentel Pocket Brush Pen (my choice)
Or
A watercolour paintbrush
Or
A waterbrush like a Pentel Aquash (my love).
2. Paper. You can print this sheet on normal office paper. There's no need to get fancy when you're just practicing.
3. If you are using a paintbrush or a waterbrush, you'll need ink or watercolour paint. Sumi ink or any cheap watercolour paint set will do.
That's it! Draw your letters on top of the ghost letters, using heavy pressure to get the thick downstrokes, and light pressure for the thin upstrokes.
If you want to watch some videos on doing brush lettering, check out my roundup here or follow Olivia on Instagram where she shares a lot of videos too.
To download this brush letter practice sheet simply fill in your email address below and an email from Random Olive should arrive with the link to download.
If you want to practice all the letters – lowercase, uppercase and numbers, I highly recommend Random Olive's Brush Letter Practice Guide. This was the first guide I used when I started learning brush lettering. Check it out here.
Now, the phrase, "if you never try, you'll never know" was my choice and here's the story behind it:
I've admired brush lettering for a few years but always believed that I couldn't do it. I was too afraid to try. I was afraid that I will suck at it and that it won't be perfect (I'm a perfectionist and have always been too hard on myself). So instead of trying I envied everyone who could do brush lettering. That's sad. Very sad. One day I came across a YouTube video showing how to do brush lettering. This was the first time I ever saw a video of someone showing you how to do it. I've previously only seen completed work. So when I watched the video I was incredibly inspired and thought, "This looks like a lot of fun. I have to try it."
So I bought the supplies and told myself: "It's okay if it's not perfect. Just try it, or you'll never know whether you can do it or not. It will be at the beginning, but just enjoy the process."
Well my friends, it turned out that it was the perfect hobby for me. It's relaxing, totally addicting and I'm not half bad at it.
So if you're ever thinking "I can't do it", just try. You'll never know. Perhaps you'll discover a hidden talent!
Have any questions? Feel free to ask below in the comments.
Want to practice more? Here's another free brush letter practice sheet: