UPDATE: The free printable 2018 calendar is now available here!
As you probably know by now, I LOVE creating calendars and I give one of my calendars away for free each year. Last year's calendar was so popular and many of you asked if I will be updating it to 2017. So I did! Last year I was a novice when it comes to brush lettering and scanning my work (I didn't even own a scanner last year, haha). So I hand lettered all the months of the year with my Pentel Aquash again, scanned it in and gave it a colour according to its birthstone.
It took longer than I thought to design this calendar, but I'm so happy with how it came out and I hope you love it too!
This 2017 calendar comes in A4 size but you can also print it on US Letter paper. It's printer friendly so it won't use a lot of ink, but you can still take it to a copy shop to get it printed there. I like to print my calendar on nice thick paper and place it in a clipboard and display on my desk. You can also tape it to your wall or your fridge. If you are looking for a smaller version of this calendar (two pages print out on one page) buy the mini version here.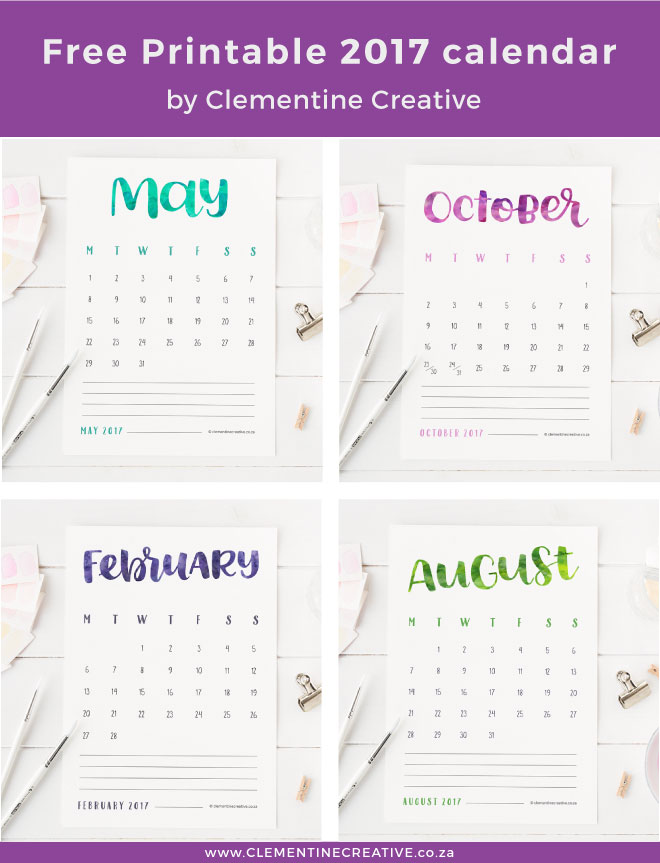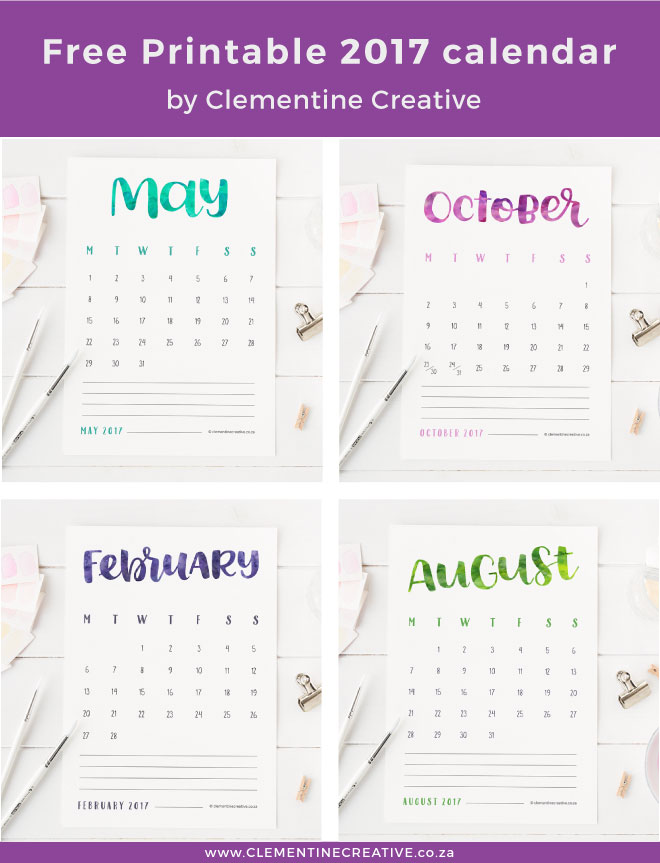 How to print this 2017 hand lettered calendar
Download the PDF file below
Open the PDF file in Adobe Reader
Print out on normal office paper or thicker paper if you're giving it as a gift
Place in a clipboard and display it on your desk!
UPDATE: Looking for the 2018 calendar? Download it here.
On what day of the week do you prefer your calendars to start on?
Please vote in the poll below. I will use your answers to create my calendar next year. Thank you!
[yop_poll id="2″]
Have you checked out the other printable 2018 calendars in my shop?
Before you go! If you're a planner lover, you'll love these beautiful 2018 monthly calendars available in my shop. They come in 4 different styles and 4 different sizes. You can even type in your own text in the headings!
These monthly calendars also make great gifts for teachers and fellow planner lovers.
I hope you enjoy this 2017 calendar. Leave me a comment to tell me how you will be using it.
Please note that all freebies on my site are for personal use only, and may not be sold. Feel free to share this freebie, but please credit me and link back to this page when placing my images on your blog or social media. Please DON'T link directly to the downloadable PDF file; instead link back to the URL of this page. Thank you for your cooperation!
UPDATE: The free printable 2018 calendar is now available here!