The wait is over: the free printable 2018 calendar is here!
Even though all of us have calendars on our phones, stationery lovers like us love to have a physical, pretty calendar that gives us joy just by looking at it.
I've been giving away a free calendar ever since I started this blog in 2012 and it continues to be popular. I'm excited to reveal the free 2018 calendar today and I hope you'll love it too!
This post contains affiliate links. I may earn a small commission if you decide to purchase something through my links. Read my full disclosure here.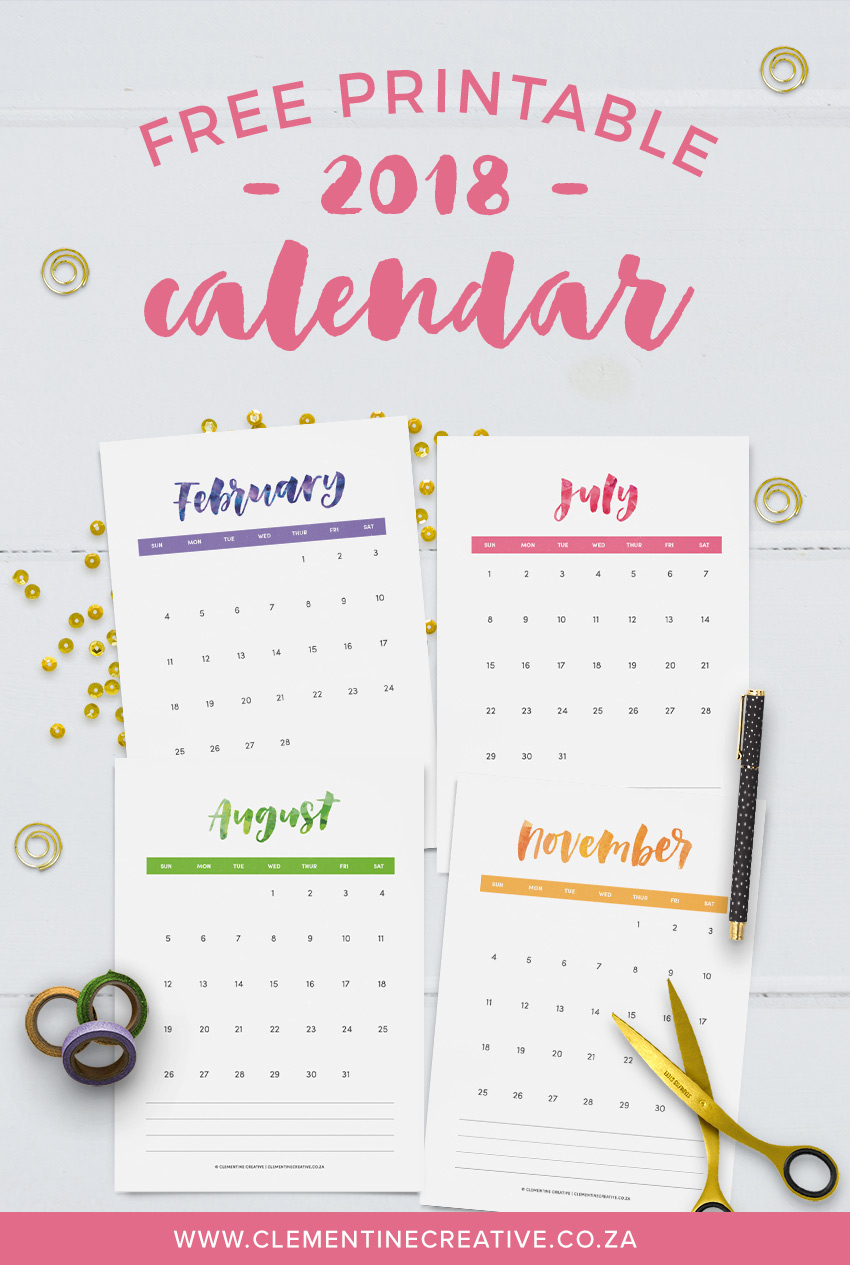 The free printable 2018 calendar was hand lettered by me with a Pentel Pocket brush pen. If you would like to see more of my hand lettering work, you can follow my Instagram account here. Each month was then coloured according to its birthstone colour.
This 2018 calendar comes in A4 size but you can also print it on US Letter paper. It's printer friendly so it won't use a lot of ink, but you can still take it to a copy shop to get it printed there. I like to print my calendar on nice thick paper and place it in a clipboard and display on my desk. You can also tape it to your wall or your fridge.
And for the fist time ever, all my calendars come in BOTH Monday and Sunday start versions!
How to print this 2018 hand lettered calendar
– Download the PDF file below
– Open the PDF file in Adobe Reader
– Go to File – Print and choose the "fit" option under Paper Size and Handling.
– Print out on normal office paper or thicker paper if you're giving it as a gift
– Place in a clipboard and display it on your desk!
I hope you enjoy this free 2018 calendar. Leave me a comment to tell me how you will be using it.
Before you go! My 2019 printable desk calendar is now available! I'm in love with the cute size and the way it looks on my desk.
Each month features a different motivational quote.
Display it on a miniature easel, photo holder or clipboard, or paste it in your notebook or journal. However you decide to display it, motivation will follow you everywhere.
Each calendar card is 4×6″ (10 x 15,5 cm) and two cards print out on one page.
Both Monday- and Sunday-start versions are included.
This calendar contains 12 months – from January to December 2019.
Please note that all freebies on my site are for personal use only, and may not be sold. Please DON'T link directly to the downloadable PDF file; instead link back to the URL of this page. Thank you for your cooperation!
Don't have time to download this calendar now? Pin the image below to save it for later!

Download your FREE 2018 calendar by clicking the buttons below:
Follow my printables board on Pinterest to discover more pretty printables!
Related posts you might like:
Printable weekly planner
Printable 2019 desk calendar
Printable to-do list