The wait is over: the printable 2021 calendar is here! This pretty, minimalist monthly calendar includes all 12 months of 2021. Scroll to the bottom of the post to read how to access it.
Even though all of us have calendars on our phones, stationery lovers like us love to have a physical, pretty calendar that gives us joy just by looking at it.
I've been creating a printable calendar ever since I started this blog in 2012 and it continues to be one of my most popular posts. I always get questions from readers asking when the new calendar comes out.
This post contains affiliate links. I may earn a small commission if you decide to purchase something through my links. Read my full disclosure here.
Printable 2021 Calendar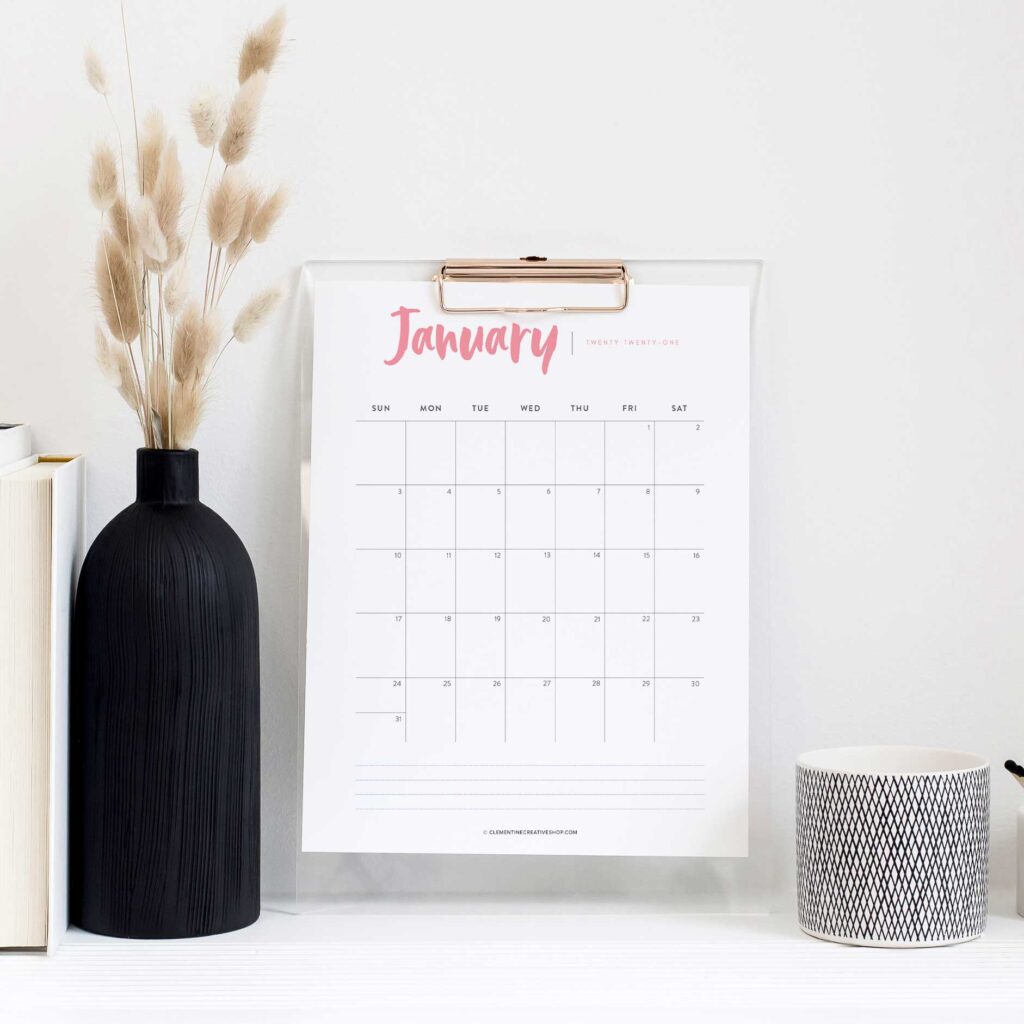 This monthly calendar features a modern and minimalist design with lots of whitespace and a modern brush font called Palmetto. I used to create very colourful calendars, but my style has evolved and I'm now all about simplicity.
If you're someone who prefers minimalist design, you'll love this calendar.
I call this a desk calendar because it brightens up your desk at work or at home.
This 2021 calendar can be printed on US Letter or A4 sized paper. It's printer friendly so it won't use a lot of ink, but you can still take it to a copy shop to get it printed there.
I like to print my calendar on nice thick paper and place it in a clipboard and display on my desk. You can also tape it to your wall or your fridge.
This is a grid calendar so you can write down your appointments and events in the blocks. There's also space for extra notes at the bottom of the pages.
Like last year, this calendar comes in both Monday and Sunday start!
Supplies needed
Printer paper or card stock
A printer. Here is the one I use.
A clipboard to display your calendar
How to download this printable 2021 calendar
– Click the pink "download here" button below to purchase the calendar for only $5
– Go through the checkout process.
– An email will be sent to you with a ZIP file. Download it to your computer and then unzip it.
– Open the PDF file in Adobe Reader
– Go to File – Print and choose the "fit" option under Paper Size and Handling.
– Print out on normal office paper or thicker paper if you're giving it as a gift
– Place in a clipboard and display it on your desk!
If you're a long-time reader you might remember me giving away a free calendar every year. While I loved doing that, it is no longer feasible for me. It's quite a big expense to keep this blog running (hosting fees, maintenance, software, plugins, etc.) that I'm now asking a small fee for the calendar. I know not everyone has a large budget so that's why I'm making it super affordable. Thank you for understanding!
Please note that all designs on my site are for personal use only, and may not be sold, altered, redistributed or claimed as your own. This calendar is password protected and cannot be edited. A lot of hard work has gone into making it. Thank you for respecting my terms!
I hope you enjoy this 2021 calendar. Leave me a comment to tell me how you will be using it.