Keep track of your life. Be more organised. Feel less stressed.
Can you relate to any of the following?
– Do you ever feel like your brain is exploding with tasks you need to remember?
– Do you write down your to-do lists on different pieces of paper and forget where you left them?
– Do you forget that new movie you wanted to see, what you wanted to make for dinner tomorrow night, or what you needed to buy for your new project?
– Have you tried to design your own planner, but don't have the time or skills to do it?
We all have busy lives and a thousand different things to remember. This eventually leads to us feeling overwhelmed and being unable to focus on our actual work.
But here's the thing: your brain is a thinking tool, not a storage device.
You deserve to live a happy, stress-free life. To have a clear mind.
That's why I decided to create a system where we could store ALL our thoughts and track our progress.
Imagine that feeling of having everything written down, tracked and recorded.
The Inspired Life Planner is going to help you with just that. This printable planner includes everything you need to help you keep track of your life, deposit all of the stuff you need to remember on organised lists and as a result, reduce stress and live a happy life.
It is a printable PDF planner consisting of various types of trackers, planners and to-do lists. From goals trackers, daily, weekly and monthly planning, to finance, health and fitness trackers.
This life planner is going to get you organised in style! Every page was lovingly designed to be functional and pretty.
What you'll get
There are 60+ pages included in this life planner kit. Here's exactly what you'll receive:
To do lists
shopping list
movies to watch
daily planner
books to read
shops to visit
restaurants to visit
places to visit
to-do-list
packing list
websites to visit
daily schedule
don't forget
stay in touch (people to call)
tv shows to watch
bucket list
Finance
expense tracker
income tracker
bill tracker
monthly budget
Celebrations
important dates
birthday tracker
gift ideas
Home
kitchen inventory
meal planner
grocery list
meal ideas
cleaning schedule
home maintenance log
recipe card
kitchen conversion chart
Goals and planning
Goal tracker (monthly)
daily planner
weekly planner (horisontal)
habit tracker
monthly planner
project planner
year at a glance
month at a glance
meeting tracker
weekly planner (vertical; with times)
current projects
future log
daily schedule
weekly goals
2018 year-at-a-glance calendar
travel planner
Health and fitness
progress tracker
weight loss journal
food diary
meal planner
monthly workout log
water tracker
medical info
Personal
wish list
song favourites
book journal
my prayer list
memorable quotes
I'm grateful for
achievements
career planner
Other lists
password keeper
contacts
car maintenance log
doodles
notes
online courses tracker
Now, you might be thinking: "60 pages are a lot. I don't need that many pages. My life isn't so busy." I get that. Even if you only need 10 pages now, you'll still get enormous value with this kit. There is no price tag on having a clear mind 🙂 Plus, if you see the bonuses included in this kit, you wouldn't think twice.
Why you'll love the Inspired Life Planner
Light colours
This uses less ink and is great for printing double-sided
Clean and simple design
No excessive graphics that clutter up a page
Only print the pages you need
There is enough space around the margins to punch holes
Pages are undated
You can re-use these as often as you like
Professional look
A consistent design across all pages
Choose from one of 3 different sizes
Choose the size that fits your needs
Be inspired
This kit includes 16 quotes
About the creator
Clementine Creative is owned by Carmia Cronjé, the graphic designer behind the Inspired Life Planner.
My work has been mentioned on sites like Buzzfeed, Popsugar, Oh So Beautiful Paper, Brit+Co and Etsy.
Here at Clementine Creative it is my mission to design inspiring, motivating and helpful printables. This planner was created with you in mind. Hours and hours have gone into designing it to make it functional and pretty. I hope you enjoy using it and that you find it brings you joy and clarity.
What people have been saying about the Inspired Life Planner
"It's an amazing planner. I was writing down my plans in different files and later I forgot about it. But your life planner is the best thing I found . You made my life organizing easier and faster. Thank you very much. I really love it and I recommend everyone to buy "The Inspired Life Planner". It organizes your life. I just love it." ~ Douaa
"I couldn't be happier with my purchase of the Inspired Life Planner. The planner is well thought and well made. I use the planner for my business and I love the "project planner" page it has which has been broken down into different sections.The instructions are very clear and I love the overall look of the planner. Highly recommended! ~ Zakkiya of Inkstruck Studio
Is The Inspired Life Planner for you?
This planner is right for you if:
– You are comfortable printing printables
– You are a serious planner lover
– You don't mind printing lots of pages

This planner is NOT for you if:
– You don't want to be printing this planner
– You have never used a printable before
– You want to get a physical planner shipped to you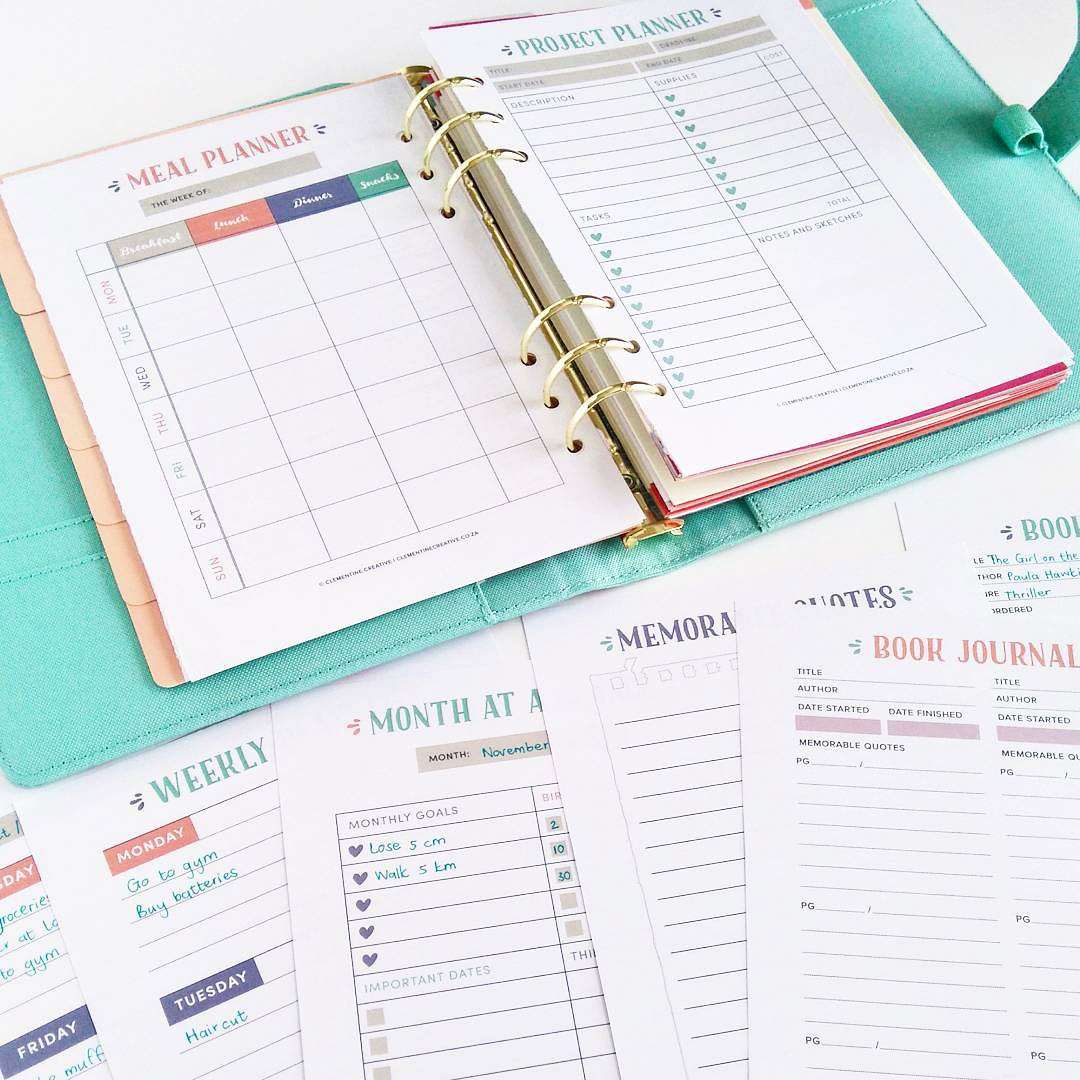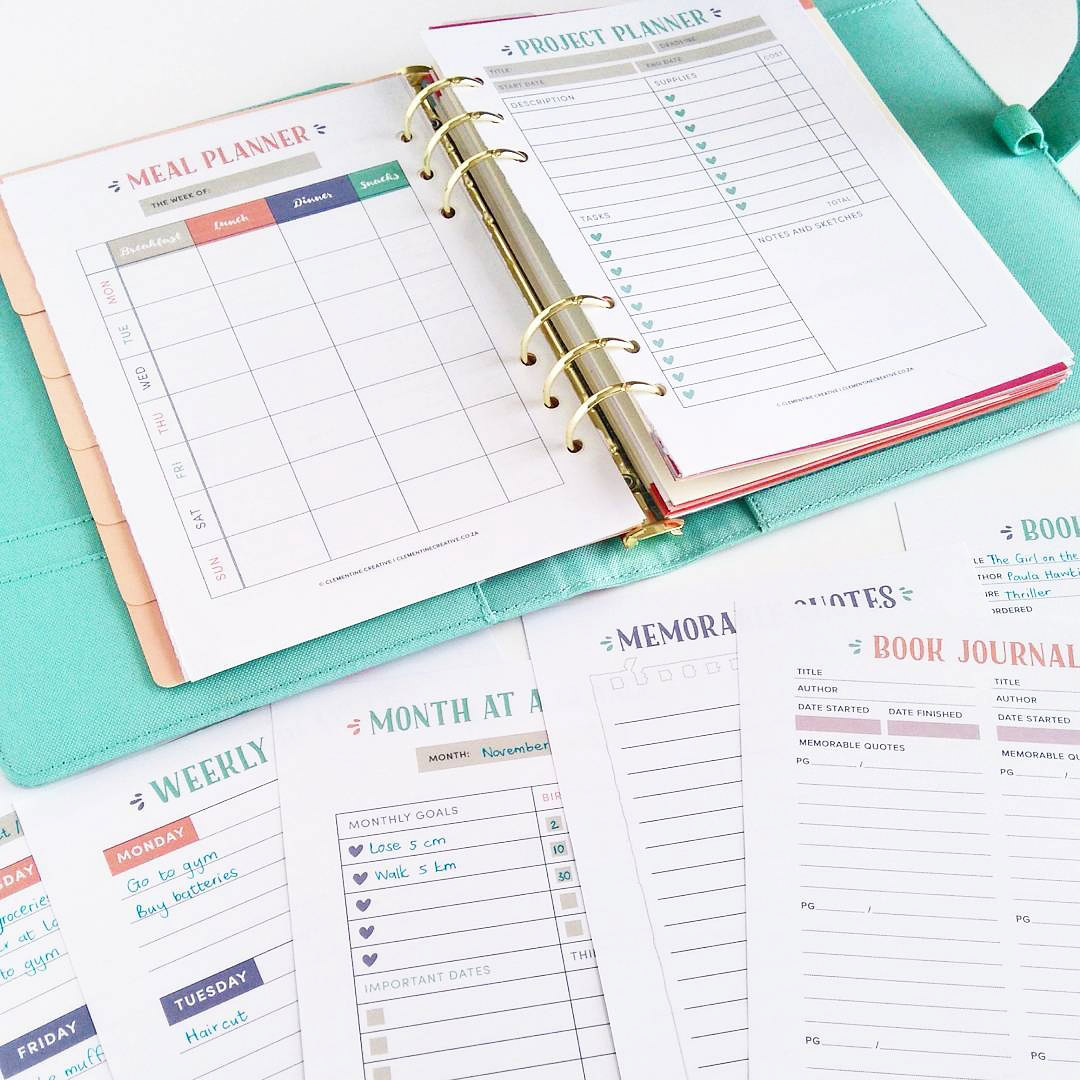 Watch the video below to get an idea of what you'll get with this printable planner:
Frequently Asked Questions
Please note: This is a digital item. You will not receive a physical item in the post. The binder, dividers and accessories you see in the photos are for display purposes only.
Free updates for one year
If any of the pages in the planner get updated or if new ones are added, you will get them for free!
16 inspirational quote prints
It isn't called the Inspired Life Planner for nothing 🙂 With your purchase you will get 16 beautiful inspirational quotes to place in your binder, stick on your notebook or your wall, or to frame.
Ready to have a clutter-free mind and an inspiring life?