One of the most effective ways of getting the planner/organiser that you want is to build one yourself. Yes, we can buy one with lots of pages already included but most of the time we don't even use all of them, or we require pages that aren't included.
This post contains affiliate links. I may earn a small commission if you decide to purchase something through my links. Read my full disclosure here.
Building your own planner can be very rewarding because you can design it the way you want! Each one of us is unique and we have different needs. By building your own planner you can have something that is unique to you and that will help you be even more productive.
Let's see how we can start building our own planner.
Buy or decorate a folder
Firstly, we need a folder/binder to place all our planner inserts in. If you have one already, that's great! I'm using my large kikki.K planner from last year and will be using it over and over again. It was quite expensive so I want to make sure I get value for my money.
You can buy an inexpensive binder from any office supply store. Try to find one that fits your style or cover it with cute wrapping paper.
If you're feeling crafty, here are a few video tutorials showing you how to personalise your binder:
You can even create a fabric planner from scratch!
Add planner accessories
Visit office supply stores and art stores for cute planner accessories like stickers, flags, etc to decorate your planner pages with.
You could even make your own dashboard, dividers, zipper pouch, elastic band and more!
Or download these free printable top tab dividers to help you flip to the right page in your planner.
Add your inserts
This is probably the most important part. You can have the prettiest planner cover and decorations but without the planner pages you won't actually get anything done!
You can buy separate planner inserts from the company you bought your planner from. For example, you can buy planner refills from kikki.K.
This free printable habit tracker insert has helped a lot of people track their goals: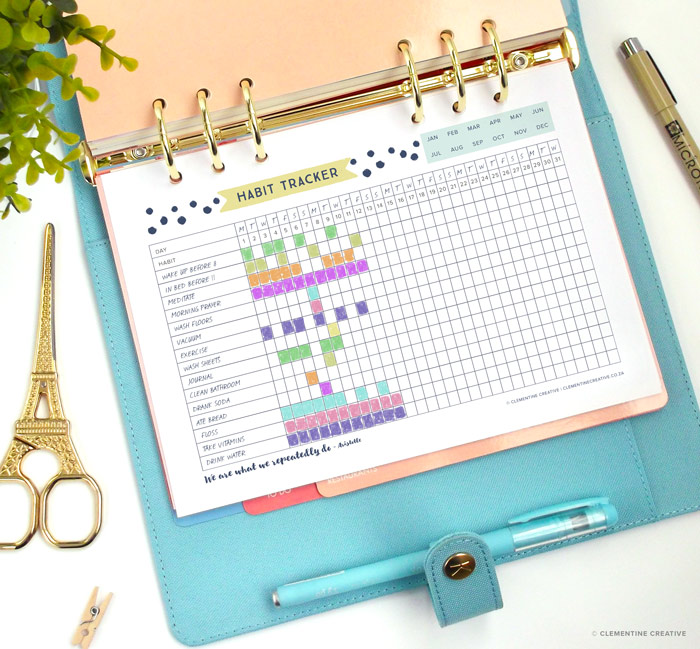 You could even make your own planner inserts if you are computer savvy:
If you're looking for a complete life planner kit that will help you keep track of your life, remember important things and set goals, check out my Inspired Life Planner – a 60-page kit filled with printable planner pages. All you have to do is print them at home or at a copy shop.
You could even buy some of the pages contained in The Inspired Life Planner separately. This is a perfect solution if you only need the basics. Buy individual planner inserts here.