When you've got a million things on your mind, it can be difficult to keep track of daily tasks or habits.
I wanted to create a tracker where I could mark off tasks after I completed it. This helps me see when was the last time I completed tasks like clean the floors and wash the sheets, while it also helps me get closer to my goals. How? Let's take losing weight for example. If that is your goal, you will need to introduce new habits into your every day life. Things like exercise and eating less unhealthy foods.
By using this free printable habit tracker it will hopefully help you to get in the habit (and out of the habit) of doing certain behaviours and reach your goals!
This page is a free sample of one of the 60+ pages of my new life planner kit that is available now!
To download this habit tracker, please scroll down until you find the download links.

This printable habit tracker page comes in 3 sizes: US Letter (North America), A4 (Europe/International) and A5 (for planners like kikki.K large and Filofax A5). You can keep this sheet loose, or place it in a binder or planner.
How to print this free printable habit tracker:
Download the PDF files below
Open the PDF files in Adobe Reader
Print out your habit tracker page at home on a colour printer or at a copy shop
Place the page in your binder or planner
Download your habit tracker by clicking the buttons below:




Please note that all freebies on my site are for personal use only, and may not be sold. Feel free to share this freebie, but please credit me and link back to this page when placing my images on your blog or social media. Please DON'T link directly to the downloadable PDF file; instead link back to the URL of this page. Thank you for your cooperation!
Do you need an editable habit tracker?
Don't want to write all your habits by hand every month? I feel you. That's why I created a habit tracker with fillable fields where you can type in your habits every month, save the file and re-use it.
This is exactly the same as the free version (the same sizes too), except you can fill in your own text on the PDF itself. It will save you more time so you can focus on cultivating those habits instead!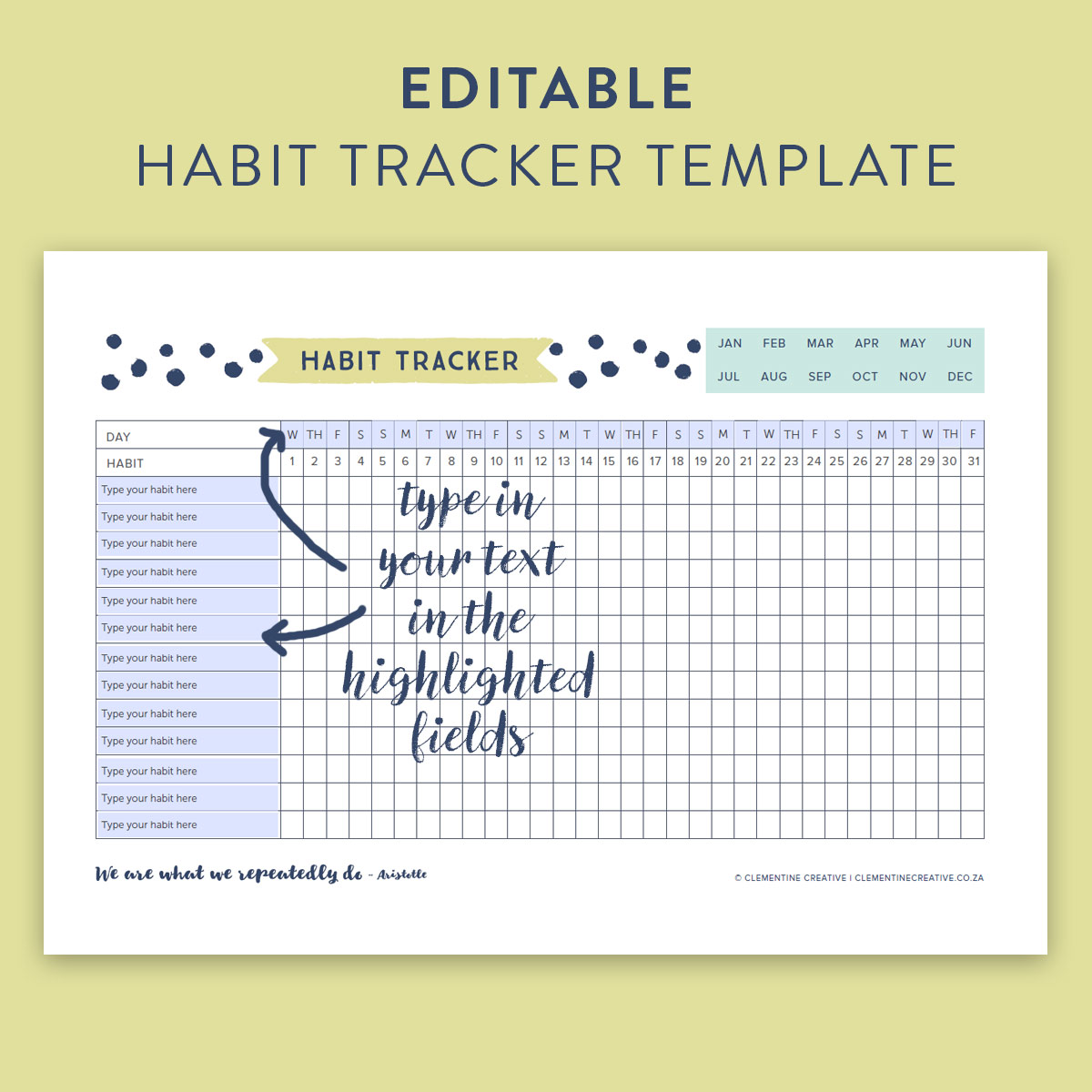 "I just downloaded it and put in the days of the week. Very nice and so easy and quick to do. It helps save time and energy. It also spares me of my own hand writing (which is unlike the journals I see on Pinterest. Nice work. Thanks again." ~ Lamont

Do you love printable planner pages?
If this habit tracker has helped you stay on track with your goals, I implore you to check out and buy The Inspired Life Planner. This printable planner includes everything you need to help you keep track of your life, dump all of the stuff you need to remember on organised lists and as a result, reduce stress and live a happy life. Check it out and buy it here.
Follow my Pinterest board below to discover new pretty printables!