Want to learn how to paint a watercolour rose in loose style? Check out these 6 free video tutorials that show you step-by-step!
Is it just me, or does everyone want to learn how to paint watercolour roses? The loose, playful paint style is really modern right now and can be seen on everything from bedding to notebooks and wedding stationery. I've been on a mission to find out how to paint those beautiful roses I've been seeing on Instagram lately. There are lots of video tutorials on YouTube but these are a few of my favourites.
This post contains affiliate links. I may earn a small commission if you decide to purchase something through my links. Read my full disclosure here.
Watercolour Painting Supplies
Do you have your supplies ready yet? If you don't, here are some of my recommendations:
Alright! Got your supplies and a clean desk to work on? Let's watch some watercolor rose painting tutorials!
How to paint a loose rose in watercolour
PAINT WITH ME: Watercolor Roses Tutorial (Easy, Beginner Painting)
How to paint a rose in watercolor – JayArt
Red Rose watercolor tutorial how to paint fast and easy
How to paint a pink rose in watercolor – Jay Art
ROSE TUTORIAL | How To Paint with Watercolors
Watercolor rose tutorial – A step by step guide
These watercolour rose tutorials are great but what I've found helped me more was an in-depth online class. Something where the instructor shows you even more tips and tricks to get your paintings to look good. I've been a subscriber to Skillshare for years now and it's always my first stop when I'm learning something new. Here are the classes I took that I wholeheartedly recommend:
Watercolor: Loose Florals by Peggy Dean
In this class, Peggy shows you how to paint watercolour roses, poppies, peonies, buds and leaves. I love her teaching style because she goes slow (but not too slow) and explains every brush stroke. I really appreciate that as a beginner. You can view the trailer of her class here.
How to paint a watercolor floral wreath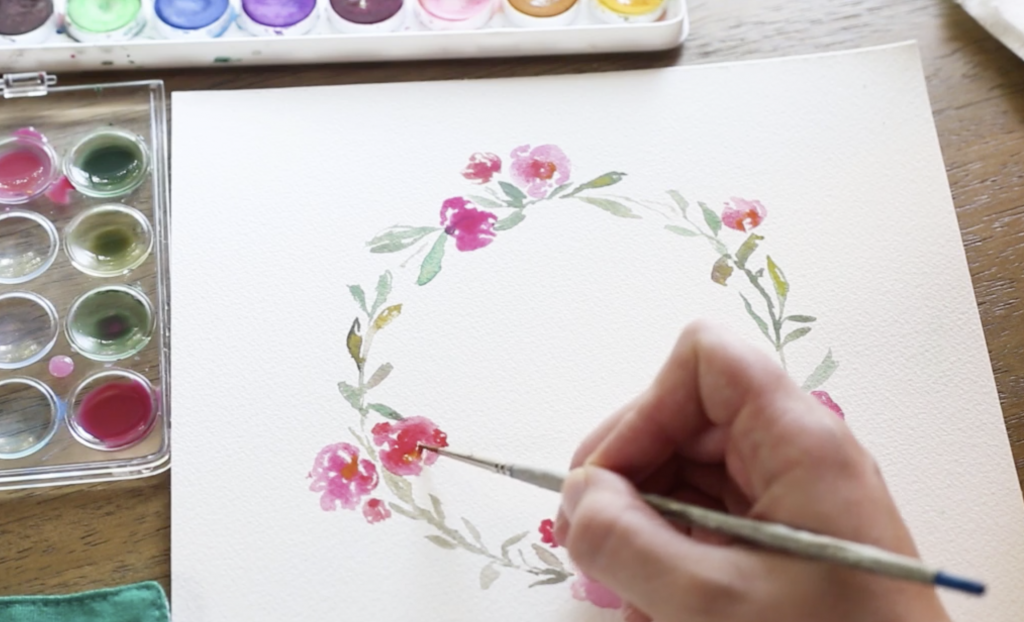 Another class I took was by Caitlin Sheffer and here we learn how to paint a watercolour floral wreath. She shows you an easy way how to make sure your wreath is balanced and takes you through the whole process from start to finish. Definitely recommend it! You can view her class trailer here.
These are just two of the watercolour rose painting classes I've taken. If you are looking for something specific, feel free to contact me and I'll do my best to find it.
The above classes come from
Skillshare
. As a member of Skillshare I can highly recommend it! You can get two months free with the coupon code
clementinecreative2mo
. You'll have unlimited access to these class and hundreds of other watercolour painting classes!
Do you have any questions? Please leave me a comment below and I'll get back to you.
Don't have time to watch these watercolour rose painting tutorials now? Pin the image below to Pinterest to save it for later!
Don't forget your supplies!